Signature Papel Picado Style Earrings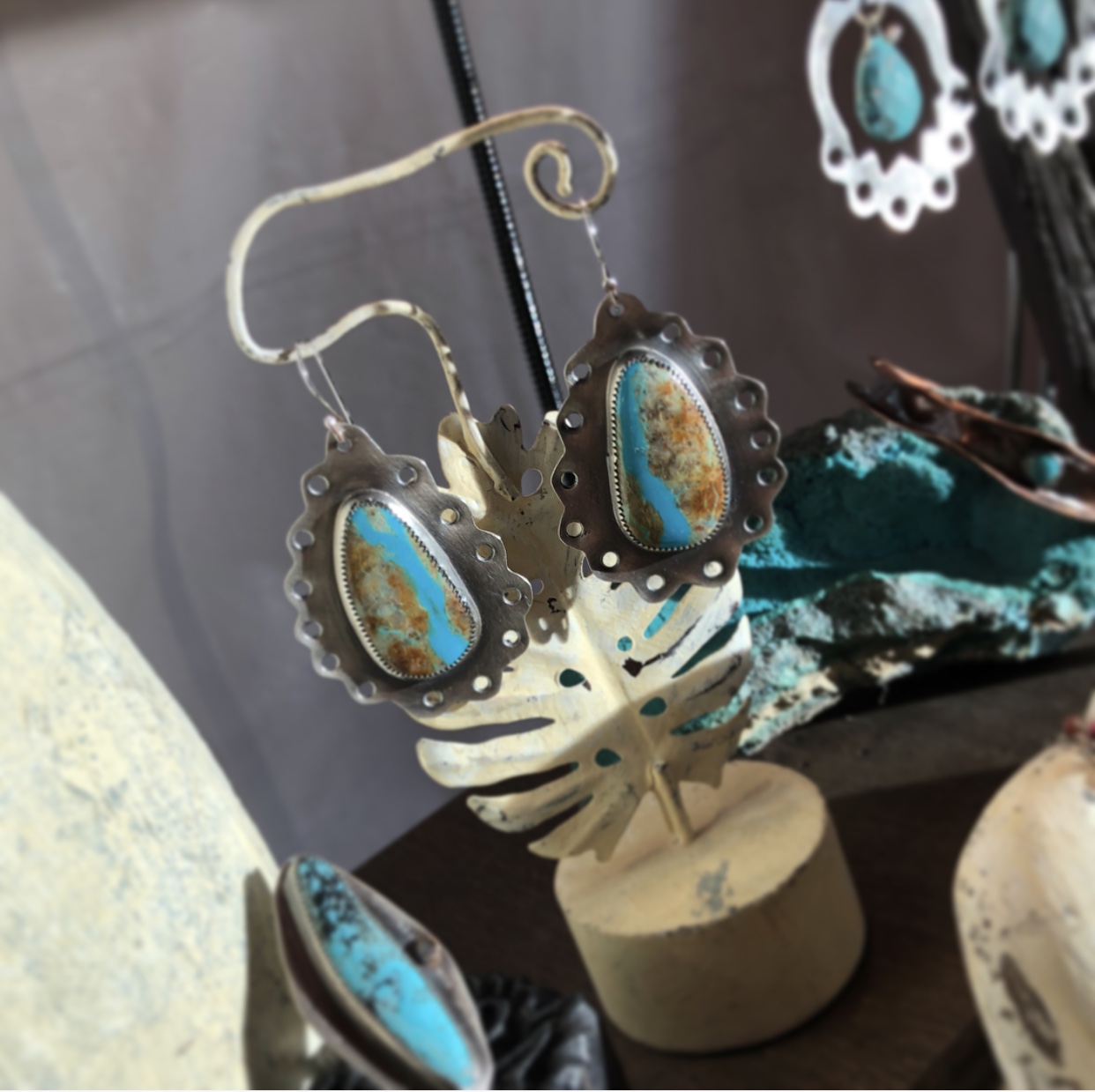 Signature Papel Picado Style Earrings
Ready to Ship
Kingman ribbon turquoise stones
Light weight sterling silver
Patina'd finish
2 1/2 in long
These Earrings are hand fabricated, pierced, and one of a kind as each pair I create holds a special set of stones to highlight. These contain two beautiful cabochons of ribbon turquoise from the oldest and largest turquoise mine in the North America, the Kingman Mine in Arizona. They are set in sterling silver and finished with a patina. Despite their size they are designed and fabricated to mimic the lightness of papel picado and therefore are surprisingly light weight and very comfortable to wear. These beauties are the perfect way to start your collection today.
About the Papel Picado Series
This body of work was inspired by the beautiful folk art in Mexico used in various celebrations called Papel Picado (cut paper art) Traditionally fine tissue paper is is hand cut by artisans in motifs native to mexican culture. It all started when my family and I were getting ready for Dia de los Muertos (Day of the Dead) in 2013. I was pulling out all of the ofrenda adornments I have collected over the years to decorate the alter we create in our home to celebrate the lives of our loved ones that have passed. The intricate designs of the Papel Picado that I pulled out to use planted a seed in my mind. A few days later in my studio working on new designs with these beautiful patterns swimming in my head, the images in my mind transferred to my pad of paper and the new collection was born. Now a signature series in my body of work, patrons collect these in different sizes and in various stones and say they feel the magic they hold when they put them on.